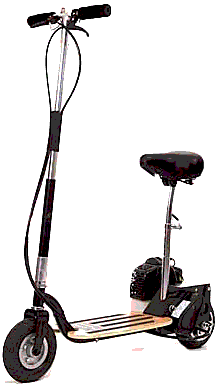 City Rider SX24 Gas Scooter Specs
Seat: Free removable Seat

Frame: Steel frame can support up to 400lbs!

Brakes: Rear drum brake with trigger handlebar grip

Engine: Quiet, Precision Two Stroke Engine 22.5cc, 1.2 hp

Drive System: Chain drive

Speed: Up to 25mph, depending on rider weight

Gas Tank: 1 Liter

Foldable: Yes

Starter: Pull starter

Carrying Capacity: 400 lbs.

Cooler: Air cooled

Tire Size: 8.5 in. inflatable tires (not solid).

Throttle: Motorcycle style twist throttle

Ground Clearance: 4"

Fold Flat: Easy storage

Clutch: Centrifugal clutch (Smooth start)

Paint: Durable Powder coat finish
$299
on Sale now $219!!!!!
Style: Street
Vendor: Neo Scooters
The City Rider SX24 gas scooter is Neo Scooters entry level model. This is a ruggedly designed street style scooter that can carry up to 400 pounds. It's got a 22.5cc engine but still manages a brisk 25mph. The tires are a little smaller than what I would prefer (I like 9" min) but to get a 22.5cc gas scooter that has a centrifugal clutch (many in this size have friction drives) I would overlook the tires. This gas scooter also folds flat and comes with a seat.